Pai's tranquil (and natural) hot spring. Source.
A small update with a couple of recent pictures plus what could be described as a number of finds.
'Relaxing at the near hot springs'.
A link to a Thai until now unknown hot spring. Phu Khao Nam Ron in Chaiya district, Surat Thani. This adds further info:
'Ancient hot springs is located at Lamet, Chaiya district, Suratthani Province. Hot spring is 4 km away from the center of Chaiya district. Hot spring is composed of two hot spring wells. From the folklore, Indian people in Srivijaya period enjoy this hotspring and use this hot springs as part of their religious practices. They consider this hotspring as their holy water. In those days, the king at that period created a pool for bathing'.
An instagram of Hin Dad hot springs by shishps
.

Another find. I have sought but not found Wichanaburi's Wankhasm hot spring. At least that's what I think.
Not very surprising but this Thai language website has quite a few piccies (below) as well as directions to find this hot spring. If you need to find this place that is ...
An upcoming hot spring destination? Krabi's salt water hot spring (below) is seeing some changes. Looks like a hot destination (Too hot? No shade, lots of concrete ...) Source
Never heard of, Rommanee hot spring in Takua Pa district, Phnang Nga. On the way to / from Khao Sok. With some history, development activities again have only taken off in the last few years and are still somewhat limited. On and also sterile ...: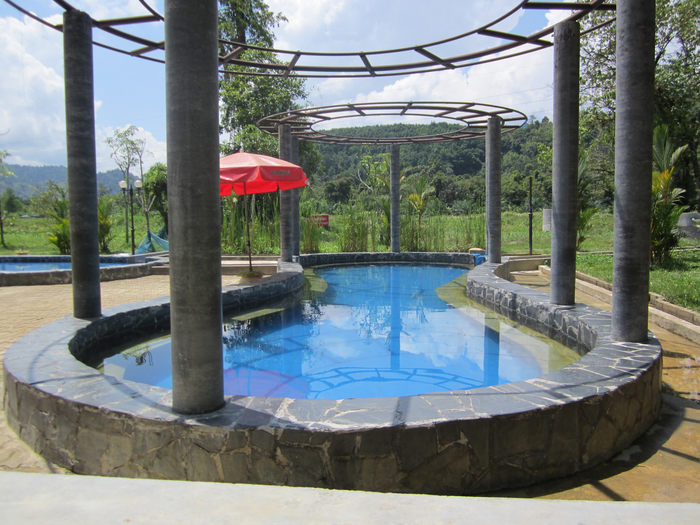 There are some better natural springs in Kapong. And Khao Sok National Park is a natural haven with lots of (skinny) dipping spots ....
At Chumpon's Tham Khao Plu.
Source